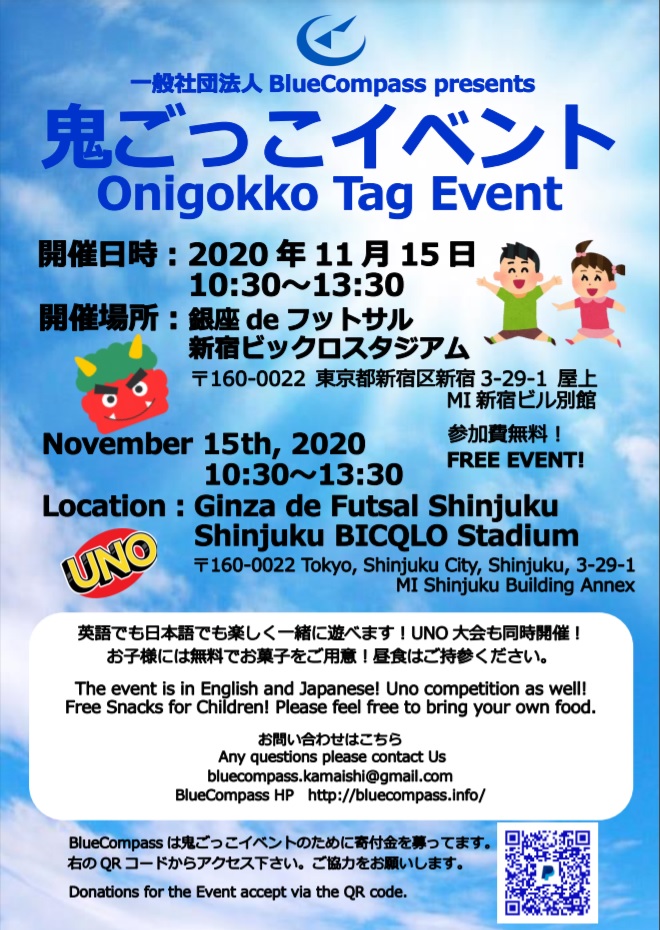 今年はコロナの影響で運動会やイベントが自粛され、何かお手伝いできる方法がないかと
今回催したのが鬼ごっこイベントです。
本イベントには15名以上の子供が集まってくれましたが、子供たちのパワーはすごいです
!!
「鬼ごっこやろー! 次はドッジボール!」と子供たちからのリクエストがスゴイ。そし
て、さらにスゴイのが休まない…。休憩時間も鬼ごっこ、ラグビー、ドッジボールと休み
がありませんでした。
東京ドッジボール協会様にもご協力頂いて行ったアメリカンドッジボール。これまた子供
たちの大好物でした。
3時間みっちり遊び尽くした後の子供たちの笑顔って素敵ですね!たくさんの笑顔を頂き
ました。
我々Blue Compassもこんな素敵な笑顔をもっと作っていきたいと思います。
In 2020, sports day in schools was canceled, so Blue Compass held an Onigokko event on November 15th because we wanted to cheer up children and parents.
Over 15 kids attended. They were very energetic.
Onigokko is the Japanese word for "tag" in English. There are many different types of Onigokko.
Children requested lots of different versions of Onigokko.
The children kept on playing, even through break time for 3 hours straight!
During the day they played Onigokko, rugby and dodgeball. We had guests from the Tokyo dodgeball association support and teach dodgeball.
A fun day was had by all and there were smiles all round.