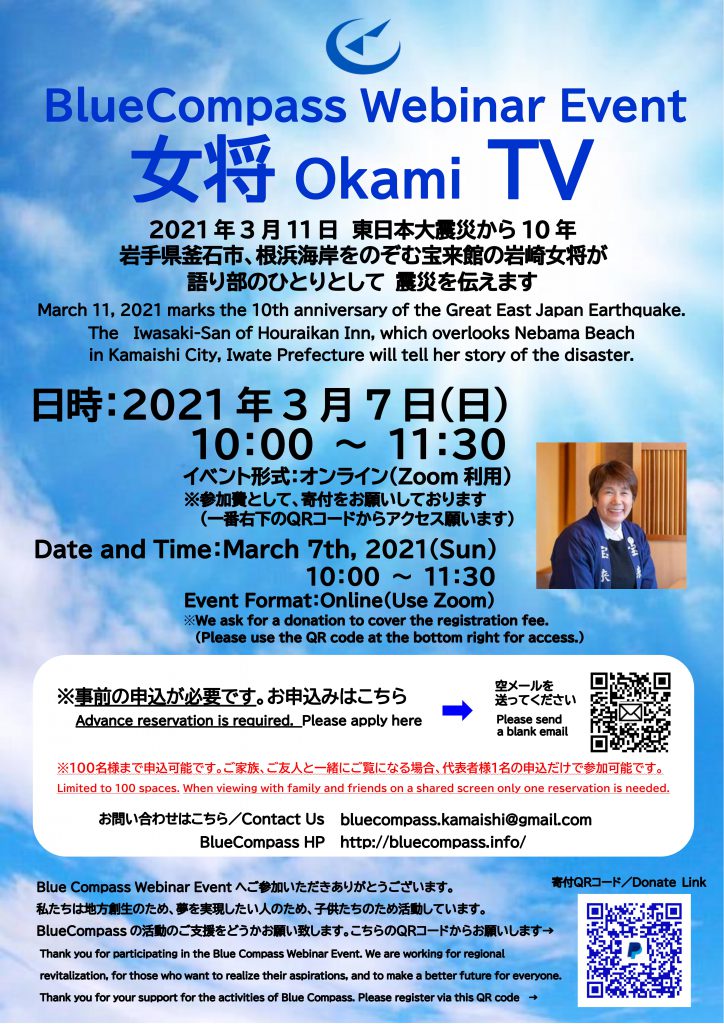 BlueCompass will hold a webinar utilizing Zoom.
For the first time, we will hold "Okami TV" hosted by Iwasaki-San, who runs the "Hour
aikan" inn in Kamaishi City, Iwate Prefecture. 2021 is the 10th anniversary of the Great East Japan Earthquake. As one of the storytellers, Ms. Iwasaki has been active in various events and seminars.
Blue Compass will continue to support her activities and the webinar event is a covid-19 safe event.
BlueCompass企画、Zoomを活用したウェビナーを開催いたします。
初回は、岩手県釜石市にあるお宿『宝来館』を経営する女将さん、岩崎女将による "女将TV" を開催します。2021年は、東日本大震災から10年という、ひとつの節目となる年です。岩崎女将は語り部のひとりとして、様々なイベント、セミナーで活躍してきました。
新型コロナ感染拡大で外出自粛が叫ばれる中でも、活動を続
けていこうとする積極的な姿勢をBlueCompassがサポートしていきます。
~Okami TV Held!~
Date and Time:March 7th, 2021(Sun) 10:00 ~ 11:30
Event Format:Online(Zoom)
※Participation fee-  donations welcome
Please apply here → bluecompass.kamaishi@gmail.com(Please send a blank email)
~女将TV 開催!~
日時:2021年3月7日(日) 10:00 ~ 11:30
イベント形式:オンライン(Zoom利用)
※参加費として、寄付をお願いしております
申込みはこちら → bluecompass.kamaishi@gmail.com(空メールをお送りください)