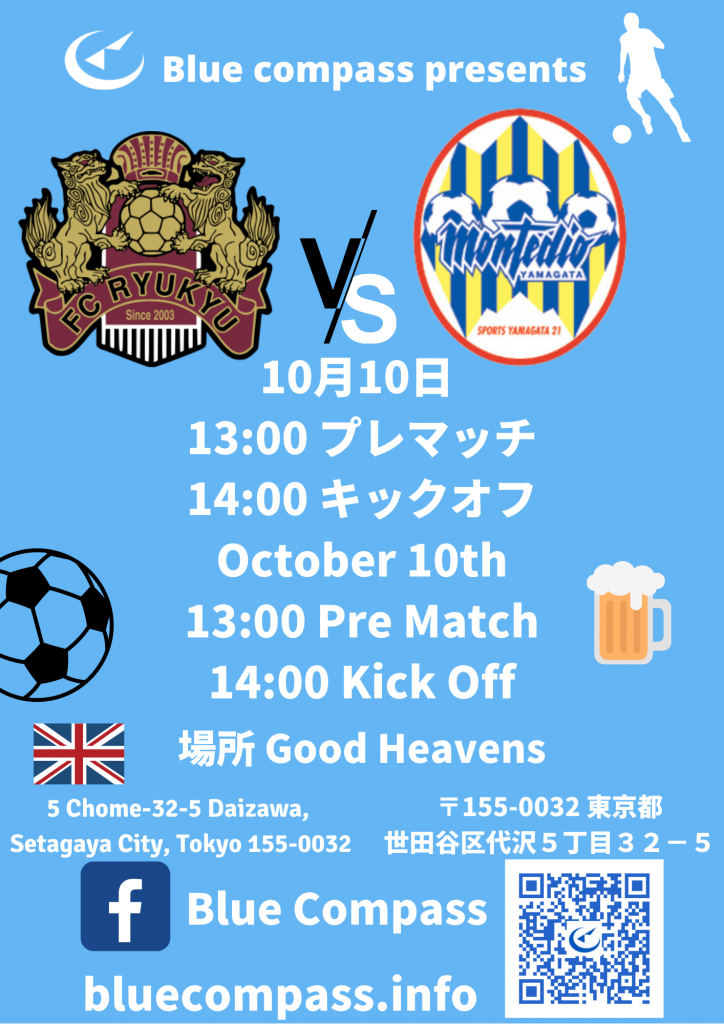 Jリーグ地方応援イベント 第二弾
山形そして沖縄の盛り上がりとJ2で中位に位置するモンテディオ山形とFC琉球が上位争いを繰り広げてもらいたいという気持ちでJリーグ地方応援イベント第二弾を行いました。
直前に山形のエースであった山岸選手が福岡に電撃移籍をしてしまいましたが、山形の新コンビが躍動し、開始6分に山形が先制ゴールを決めると序盤から山形ペースで試合が進められ3対0で山形が勝利しました。
今回、Orionビール様(沖縄)と月山ビール様(山形)に協力をいただきました。試合も盛り上がりましたが、ビールも完売と大盛り上がりのイベントになりました。
ご協力いただきましたOrionビール様、月山ビール様、Good Heavens(下北沢)様、どうもありがとうございました。
J league Regional Event
On Saturday the 10th of October, a J League regional supporters event was held at Good Heavens in Shimo Kitazawa to watched Montedio Yamagata vs FC Ryukyu (Okinawa) battle it out over a middle of the table clash to fight for a top position in J2.
Montedio Yamagata was on fire and got a goal after 6 minutes. Montedio Yamagata controlled the game and went on to win the match 3-0.
Thank you for the support from the Orion Breweries and Tsukiyama Beer Company.
The match was exciting and the beer sold out.
Thank you to everybody who came, as well as Orion beer, Tsukiyama beer and Good heavens.